Our History
In 2010,  a small group of U.S. military personnel and their families stationed in Vicenza, Italy began meeting together for worship. They reached out to Joel Rinn, an American missionary and pastor ordained through the International Presbyterian Church (IPC).
Joel was working on a church plant in Verona, but decided to help out this small group in Vicenza until they could find a pastor, and planted the church, which became known as Trinity Church of Vicenza. Upon calling a new pastor in 2015, Joel continued to serve at the church as Assistant Pastor through Dec 2017, and is now headed to Pordenone, Italy to minister at Saints Bible Institute, and will be pastoring at the Italian speak church Assemblea Biblica Cristiana in Pordenone.
In 2015, the church then called Bill Nikides as its pastor. Bill faithfully pastored the congregation for 2 years before receiving and accepting a call back to his home church in Montana.
Bill is an expert in Muslim apologetics, has written extensively on such things as the Insider Movement, and continues to travel to and minister in Bangladesh, where he often goes to train leaders and assist in many ways in various ministry tasks there.
With Bill Nikides' pending departure, Trinity Church was in need of a pastor. In God's providence, John Orlando and his wife Ursula, who both served 20 years in the U.S. Air Force, came to Aviano, Italy (October 2017) to plant a church. However, after ministering at Trinity a few times, the congregation voted unanimously in May 2018 to call John as their pastor and to rename to New Life Church of Vicenza on Oct 7, 2018, with Joel Rinn leading the service.
We are thankful to the Lord for His grace in sustaining this church down through the years and the faithful service of Joel Rinn and Bill Nikides and their families for their sacrificial service to our Lord.
Our Pastor
Pastor John Orlando is an ordained minister in the PCA. He is a graduate of Liberty University (B.S., Religion) and Westminster Seminary (M.Div, Pastoral Ministry), where he is currently pursuing a Doctor of Ministry degree. John served 20 years in the United States Air Force.  He is married to the love of his life, Ursula, who also served 20 years in the Air Force, and has served the church down through the years in women's ministry, children's ministry, and administratively. They have one adult son, Michael, who is a high school physics teacher residing in the Philadelphia area with his lovely wife Laurel.
Our Denomination and Oversight:
New Life is affiliated with the Presbyterian Church in America (PCA). Our church falls under the oversight of the Philadelphia Metro West Presbytery, with Olive Street Presbyterian Church serving as its provisional Session (board of elders).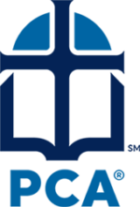 We are also affiliated with Ministry to the Military & Internationals, a PCA ministry that helps facilitates the planting of PCA churches near U.S. military installations overseas so that military personnel and American expats have access to a gospel preaching church rooted in the confessional faith of the Protestant Reformation.
Our Invitation!
We extend a warm invitation to you to come worship with us! We meet every Sunday morning for Sunday School (adults and children) at 9:30am, and worship service at 10:30am. Our address is Via Robert Baden Powell, 6, 36030 Motta VI, Italy.
All are welcome!