New Life Church Vicenza is by design what some have called a simple church. Our goal is not to be always busy, but rather to do a few things and do them well. In our life together, we understand that we do not exist just to serve ourselves or to serve others in our own name. Rather, we are called and empowered by our King Jesus to serve him and to serve others in his name. All our ministries are all directed toward this end.
Worship
"Faith is produced by the truth," St. Irenaeus of Lyon recognized, "for faith rests in things that truly are... as they are." Alastair Roberts has recently remarked, "The deepest and only enduring reality is given to us by our Creator, who is sovereign over all. Faced with immense cultural forces, we must practice the remembrance of his sovereignty, seeking his face and aid in prayer and looking towards his future in hope." It is together in worship that we do these things.
We are a worshipping church, where the minister proclaims, teaches, and applies the Truth of God to every area of life and where the congregation worships God in spirit and in truth.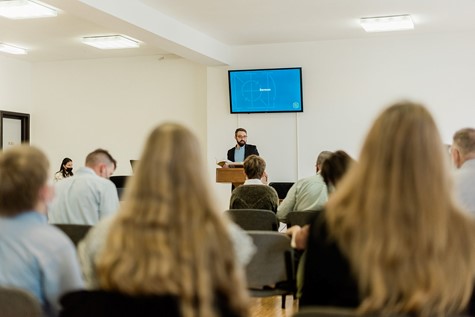 Teaching
We are a teaching church, where professing Christians are discipled to learn and do the truth in dependence on the grace of God; to develop godly covenant families; and to share what we have been given with all sorts of people, as God provides opportunities. In our ministry of teaching, we make every effort to equip and enable members, young and old, to learn and practice love for God, love for fellow Christians, and love for all people, "building the church and living like a family, the family of God," as someone has said.
Children
Because the children of at least one believing parent are members of the Church through God's covenant and by right of birth, our teaching and discipling ministry extends to them. Our children particpate in worship, receive age-appropriate instruction in the faith, and benefit from pastoral oversight no less than adult members do, with a view that by God's grace and promise, they will come to know and love God in Christ personally.
Hospitality
Recognizing that God has not called us into his family for ourselves alone, we are a hospitable church, where members strive to share the love of our Lord Jesus with people in need. In our busy, fractured world (perhaps especially in our setting in Vicenza), believers and unbelievers alike feel an acute need to belong, to have a place where everybody knows your name. As a church, we are dedicated to building that sort of simple, welcoming community, sharing our food and ourselves with others.